This very well established feature of the Activo-P11 Peptide Synthesizer enables precise automatic UV monitoring of the Fmoc removal during solid phase synthesis with feedback to the synthesizer software.
This allows the user to monitor the synthesis of peptides and to automatically change the deprotection and coupling protocols for each amino acid depending on the results.
The P11 was the first peptide synthesizer on the market to use on-line UV feedback to control coupling times, repeat deprotections, temperature and numbers of couplings. This increases the purity and reduces synthesis cost of all sequences without unnecessarily heating or double coupling amino acids that do not need to be.
New ActivoPep Software Release for the P11 Peptide Synthesizer – click here for details
This enables users of the P11 to synthesize longer more difficult peptides and to gather details of the conditions required to couple individual amino acids.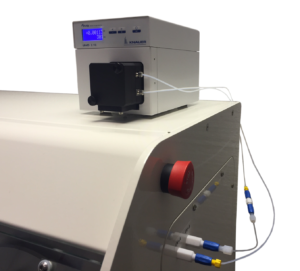 A UV monitoring method has been developed on the Activo-P11 Peptide Synthesizer that monitors the Fmoc removal and extends or changes the deprotection and coupling protocols when the deprotection is slow. Feedback control automatically programmes the addition or change to steps in the protocol or pauses the synthesizer for the user to make changes.
The UV monitoring system can be ordered with a new Activo-P11 or existing customers can be upgraded on site.