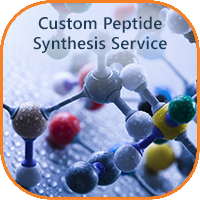 For many years – Activotec's custom peptide facility has been providing customers around the world with the highest-quality peptides at competitive prices. Operating out of a modern peptide synthesis facility in Southampton, UK the company is able to provide in fast delivery times milligram (mg) to multiple grams of peptides at all required purity levels and with any modifications required. Particular expertise focuses on difficult-to-synthesise sequences, non-natural modifications, and the design and synthesis of highly effective peptide therapeutics.
Examples of peptide modifications expertly undertaken by Activotec include N terminal acylation, C terminal acylation, site specific peptide modifications, biotinylated peptides, conjugation to carrier proteins, fluorescent tagged peptides, incorporation of unusual amino acids, cyclic and phosphorylated peptides as well as preparation of peptide libraries. Peptides are produced as standard as trifluoroacetate salts in lyophilised powder form but can also be provided as HCl or acetate salts.
The quality of every peptide produced by Activotec is guaranteed. All peptides are purified by RP-HPLC to a guaranteed quoted purity. Every peptide is delivered with individual mass spectroscopic and analytical HPLC data.
Activotec provides a range of products and services for peptide and protein synthesis including custom peptide synthesis, peptide R&D, automated peptide synthesizers and chemicals. Customers are worldwide including Europe, the USA and Asia.
For a confidential quotation or to discuss your peptide synthesis requirements please contact Activotec on info@activotec.com or telephone on +44 1223 260008.